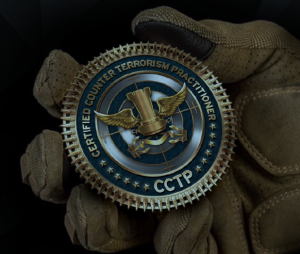 In October (16-18) CCTP is hosting their 3 days certification program in counterterrorism at the ICI in Belgium for security professionals.
On October 19th the course will be followed by an international Conference on Counterterrorism with interesting topics being covered by international speakers (details on the conference will be published soon)
The CCTP program is a 3 day exam preparation course, followed by an exam. It does not attempt to teach a security professional the vast subject of counter terrorism in only 3 days, but does provide excellent best practice and lessons learned real life applications and syllabus overview, delivered by former head of Bomb Security department (ISA Israel), and also Federal Agent / intelligence officer – Close protection of foreign heads of state, ambassadors, ministers.
CCTP is a professional development program and a CREDENTIAL which provides the demonstrable proof of knowledge and expertise in terrorism prevention, detection and deterrence. The credential will be awarded to the eligible candidates who have successfully passed the examination, which assess the knowledge of 14 main areas of the counter terrorism field.
Read more: Advert
CCTP Brochure 2016        CCTP – Reg Form        Information Hotel Tpt